It's been a while since I blogged. Maybe it's because I've been busy with the launch of my new white label web design agency. You should check it out. When I wake up from the siesta it's night. I see the ceiling near my nose, as if my bed was levitating, and for a few seconds I do not remember where I am. I am again aware of the movement and the sounds and I realize that the two Russian ladies did not stop talking since I fell asleep, they were the voiceover of my nap. I like to listen to them without understanding. The Russian sounds to me, at times, similar to Portuguese in its soft way of pronouncing things. Sometimes I catch some of the words they say, like Istanbul, Anna Frank, baguette, frenchis and something that sounds like hokus pokus. The rest of the time is like listening to a song that I do not know but that for some reason comforts me. One of the women opens a tupper and starts eating strips of paprika with her hand. The provodnitsa appears in the cabin to offer us tea. I can no longer see the snow through the window, but I sense that we continue to move through open spaces, solitary and covered in white like this morning. It's 4.40 in the afternoon. By the hour, we are going through Poland.
When snow was not visible yet, in Germany.
When you started to see everything white.
In the cabin we are four: the two women, the teenage daughter of one of them and me. We all climbed yesterday at Gare de l'Est, almost 24 hours ago, to do one of the longest train trips in Europe: Paris – Moscow. We share a space with four beds (two upstairs -which fold during the day- and two below) and a folding table with four cups. We have magnetic cards to enter the cabin, dials to control the temperature of the compartment and two bathrooms at the end of the corridor. In each car there are eight cabins like ours and a Russian stewardess – the provodnitsa – in charge of caring for their group of passengers. Each time the train brakes, the provodnitsas shelter themselves, get off and stand in front of the door of their wagon to receive the passengers, with the symmetry and coordination of a synchronized swimming team. During the rest of the trip, they order the tickets, clean the cabins and the bathroom, make any important announcement and give us, for a few rubles, Russian tea and instant coffee. Ours has a blue cap to the floor, boots with a lamb and a fur hat. It's like the nanny in the car and does not speak English. This train is Russian and all indications, brochures and announcements are in Cyrillic.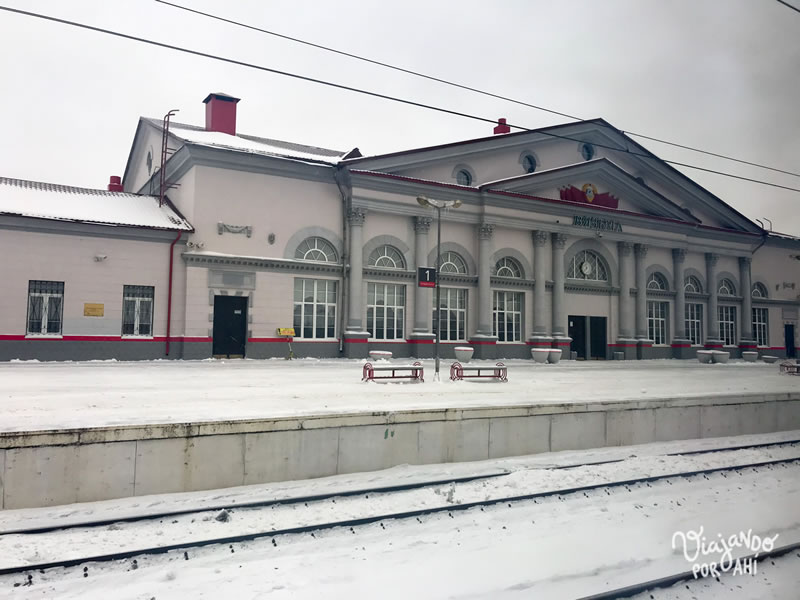 Towns that are seen on the road.
I know my reasons for making a trip of 42 hours by train, but I am intrigued by my companions. Fear to fly? Love for the speed of the train, which goes to the rhythm of thoughts? Nostalgia? Comfort? In my case, I did not imagine this trip in another transport that was not a train. The idea of ​​going to Russia came up in December, when I told L that I needed to make a trip of disconnection. Traveling without a computer should be (is) the fantasy of the digital nomad, because of the contradiction that it generates from just thinking about it. "When I started traveling, I had no cell phone, no laptop, no emails to answer, no social networks, no need for Wi-Fi, or omnipresent 3G. I need to go back to that, "I told L," I need to travel to travel, without thinking about the posts or the photos I'm going to publish. " When L proposed Moscow, something inside of me said yes. There it is. In the end he could not travel and I decided to go alone, like in the old days. I put an autoresponder in the mail, a notice of "Closed for holidays" in my networks, I left the computer in Biarritz, I turned off the 3G and I took vacations for the first time in several years.
My two travel companions offline: my journal "Subjective travel map" and a blank notebook
Filling my journal <3
A neon sign indicates that it is -10 degrees outside and 20 hours to get to the Russian capital. The route Paris – Moscow is the second longest train journey in Europe, after Nice – Moscow: it is 3483 km, passing through Germany, Poland and Belarus. Some people do a vipassana meditation retreat to disconnect for a while from the world. I, who can not meditate while still, I just need a train. I spend a lot of the trip writing in my notebook. I also came for this: write. Or, maybe, I came alone for this. Having gotten on this train without the distractions of the internet, without work to deliver, without urgent matters to resolve, with an empty agenda (without an agenda) is my way of allowing me to write as long as I want, without interruptions and without the obligation of having than publish anything. I came to travel because I did and to write just because. This is my writing retreat, my train trip to the interior.
The provodnitsa appears to warn us that we are about to enter Belarus. I realize because the three women prepare their passports. I take mine and the mother effect begins.
– Did you travel alone? -Says one of them in basic English.
I say yes and smile. They ask me if I go to Moscow to study or visit, if it's my first time there, if someone waits for me, if I have friends. They want to know where I'm going to sleep and how I'm going to pay the hostel: cash, credit card, money? I tell them with a card and they talk to each other. They ask me how I'm going to go to my hostel: metro, taxi? When I say "metro", the one that is sitting next to me says something that I interpret as "pass me the wallet". I get a bag that is at my side, open your wallet and gives me 100 rubles (a little more than one euro): "For metro." I say no, I try to return them and put them in my notebook. She smiles at me and keeps talking to her friend, who asks me where I am from.
One of my cabinmates.
Fifteen minutes ago the Belarussian migration officer left with my passport and I do not know if the train is stopped because of me or if this wait is normal. She asked me why I do not have a transit visa, I told her I do not need her to be Argentine and she went to talk on the phone. Now I am doubting my affirmation. What if the free visa does not count for those who enter the train? What if I came uninformed? I have no way to check again or show you the embassy website, roaming costs 18 euros a mega and the train's wifi is only enabled for phones with a Russian number. There is no technology to calm my anxiety and that's fine, that's why I came to disconnect, but I start to worry. It is very cold to be left stranded here, at a station in the middle of the snow in Belarus at 11 o'clock at night. Will I write the chronicle of when I got off the train for not having a visa? For some reason I do not see it as something terrible, except for the cold, for which I am not prepared, although if I am deported, it is. The officer has just returned my sealed passport without asking me questions. The three women smile at me relieved, as if they had known something that I did not.
The train is parked for at least one hour. They say that the dining car will open later, but it will be midnight and I'm starving. I go to the kitchen at the back of the car, where the provodnitsa is always used, to wash an apple. As soon as I open the tap, I hear someone shout "no, no, no!" The provodnitsa comes running, closes my bobbin, challenges me in Russian and when he sees me the frightened face beckons that they are working below. They are adapting the track width of the train to enter the former Soviet territory. I clean the apple as I can, I get into bed, I read Carl Sagan (my new favorite author, "Pale blue dot" seems like a great book to read on a trip like this) and I fall asleep.
*
I am awakened by classical music coming from a nearby loudspeaker and the voice of a man saying something from Moskva . I was dreaming that I was walking through a new city in slippers (that's how the holidays imagine my unconscious). It is morning and we are entering Russia. I do not want to get out of bed, this train combines the best elements of a winter day: I can see the snowy landscapes without raising my head from the pillow. Now in the cabin we are two: the mother and her daughter got off last night in Minsk, we were the lady who gave me the rubles and me. I see her come back to the cabin with two black teas and two packets of vanilla cookies. He puts them on the folding table and invites me to breakfast with her. He beckons me that three hours to get to Moscow, I smile and offer him almonds.
I put on my stockings and stand in front of the corridor window to look at the landscape. My feet sink into the embroidered carpet that covers the common space of the car. The glass emanates cold, although on this side it looks like summer. We go through forests and villages of few houses, I see a man walking with a shovel and snow at the knees. The tracks parallel to ours are covered in white. Every time I see ten houses together I think we are on the outskirts of Moscow, but then the empty spaces come back. Writing is learning to be awake, I think. I just realized that in nine days I have been ten years since I went to Bolivia alone for the first time, and I celebrate them with this back to the origin. What if this was what I needed? Reencounter with what I fell in love with traveling. I do not know if I want to live in constant movement, but I do want movement in my life. Maybe I'll start my year of offline travel, first travel and then count, or not tell anything. I do not know why I chose Russia, but right now, just by being on this train, I feel a connection with the country that I do not understand. Maybe this is the piece of the puzzle that I was missing.
42 hours of travel later, the train brakes in the last station: Москва . Everything I have in Moscow is a reserved hostel and a week without plans. I do not know anyone, nobody waits for me, I do not have an itinerary or a list of things to do. The lady in the cabin takes her suitcase from under the bed and beckons me to follow her. We got off together and walked in the company of a man who was waiting for her at the station. I do not know if it's your husband, your brother, your friend, your partner or who. It snows so much that any luggage with wheels gets stuck every few meters. We left the station and the lady beckons me to follow the man, who will guide me to the subway. He does not speak English either. We walk about twenty steps, we enter another station, I give him 100 rubles and he buys me a card with balance for a trip. It shows me where we are on the map, it tells me where I have to do the combination and it goes away. On the platform I face the posters in Cyrillic for the first time, and making that five-minute combination takes more than half an hour. But I do not care, I have all the time in the world and these are the things I love to travel: feeling a bit lost, out of date, out of my comfort. I like to have to decipher posters without going to technology, I like to be in a place where I do not understand anything. When I arrive at the neighborhood of the hostel and see all the cars and buildings of pastel colors covered with snow, I begin to speak alone – when a place moves me and I do not have anyone to share it with, I get to speak out loud. And I say, with a huge smile and cold hands of the cold: what is this place, please, what do I do here. I leave my things in the hostel, put on several layers of clothes and walk to Red Square. I stand looking at the church, with the cold wind of Russian winter on my face and I think: "It was this. This was what I needed: to come to Moscow. " And I have the feeling that I did not get to Russia for the first time, but I came back after a long time.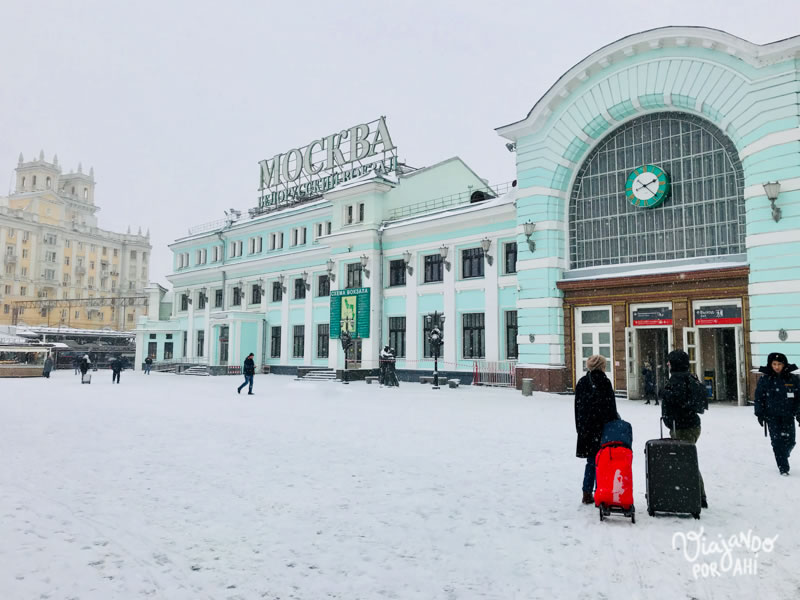 Useful information to make the train trip from Paris to Moscow:
Route : the train Paris – Moscow is from RZD (Russian Railways) and departs every Thursday from Gare de l'Est (Paris) and arrives on Saturdays at about 11 am to the Beloruskaya station in Moscow. The journey lasts 42 hours, with stops of few minutes in Strasbourg, Berlin, Warsaw, Brest and Minsk. If you want to get off at intermediate stations, it is best to buy the ticket in sections and not direct to Moscow. The train from Moscow to Paris departs on Tuesdays at 7:00 p.m. and arrives on Thursdays at 9:00 p.m.
Price : the price of the Paris – Moscow ticket in 2nd class starts at € 313 (one way). I took it out two weeks in advance and paid € 338 (I recommend taking it out with time because it runs out quickly). The easiest thing is to buy it on the oui.sncf website (French trains). It can also be purchased through the RZD website (it is complicated to use, I was never accepted by the card) or through an agency (with commission).
Cabins : the train has several classes, all with a bed: 1st class (cabins with two beds), 2nd class (cabins with two bunk beds), VIP (private cabin with bed, bathroom, shower and bar). If you travel alone, they will put you in a cabin with people of the same sex. The whole train is heated, I did not get cold, although outside it was -10. In each car there are two bathrooms and a shower.
Food : the train has a restaurant, but I recommend bringing food to have during the whole trip since the car-dining is not open all day. Near Gare de l'Est there are supermarkets where you can buy something to drink, fruits, bread and what you want to eat during the journey. In each car there is a hot and cold water dispenser that can be used throughout the trip.
Visas : I traveled with an Argentine passport and did not need a visa, but I know that a lot of countries do ask for a tourist visa for Russia and a transit visa to cross Belarus, so make sure you have that before traveling.